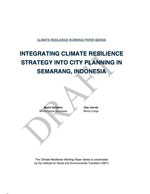 Climate Resilience Working Paper #1: Integrating Climate Resilience Strategy into City Planning in Semarang, Indonesia
For a successful path to sustainable development to occur, there is great need for the integration of climate adaptation and resilience into urban planning. This working paper examines a case study in which such a plan is discussed and implemented. Because the government of Indonesia was largely centralized until 1991, experienced leaders and successful city planning in each region have both been very hard to come by and consequently, development has been lacking. Semarang, Indonesia was chosen as the site to invest in for this project. A Regional Long Term Development Plan (RPJMD) was developed by stakeholders and government officials and outlines mid-term and prioritized program activities for the city during the next five years. A Climate Resilience Strategy (CRS) was also created as a framework for climate change adaptation actions. The CRS was then incorporated into the RPJMD in order to prioritize climate change resilience measures in urban planning and to show city government departments how they could reduce the city's climate change impact. Since this integration, the Semarang city team members have a better understanding of effective longer term planning; they see the importance of understanding their current and future vulnerability, and they have much higher technical capacity. However, it is recognized that the CRS needs refinement as well as a monitoring system in order to measure success. Overall, the findings of this case support the notion that for the success and sustainability of action in building Urban Climate Resilience, it is essential that government policy require climate resilience strategies.
---
Citation: Sutarto, R., & Jarvie, J. (2012). Integrating climate resilience strategy into city planning in Semarang, Indonesia (Climate Resilience Working Paper No. 2). Hanoi, Vietnam: Institute for Social and Environmental Transition-International.
Funded By: Mercy Corps; The Rockefeller Foundation