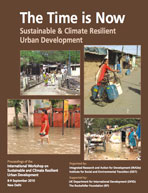 The Time is Now: Sustainable & Climate Resilient Urban Development
Urbanization and climate change are among the most fundamental issues facing India and the global society over the coming decades. This international workshop on sustainable and climate resilient urban development gathered a unique combination of decision makers, city mayors and local government representatives, local NGOs and international research experts. The discussions and presentations generated an array of conceptually grounded and highly practical insights and guidance on how India can address urban challenges and get the process of urbanization right. Maintaining the environmental infrastructure on which basic food and water services depend, building the institutions and governance mechanisms required for socially inclusive urban societies and creating the institutional and physical infrastructure for energy, transport and communications will require massive investment of human capital, finance, and other resources. How this investment will happen will shape the future. Discussions at the workshop have highlighted the time to act is 'right' now. India is urbanizing rapidly and the rapid pace alone will strain conventional approaches to urban development. 
---
Citation: Institute for Social and Environmental Transition (ISET). (2010). The time is now: Sustainable and climate resilient urban development. Boulder, CO: Author.
Funded By: UK Department for International Development (DFID); The Rockefeller Foundation