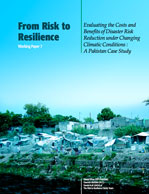 From Risk to Resilience #7: Evaluating the Costs and Benefits of Disaster Risk Reduction Under Changing Climatic Conditions: A Pakistan Case Study
Authors: Fawad Khan; Daanish Mustafa; Daniel Kull; The Risk to Resileice Study Team
This working paper provides insights from an evaluation of the costs and benefits of disaster risk reduction and adaptation to climate change in South Asia, with the report based on a set of work undertaken in the Nepal Tarai, Eastern Uttar Pradesh, and Rawalpindi, Pakistan. This case study is designed to use both social and natural science tools to answer a set of basic questions on proactive risk reduction. The primary question is to determine whether and/or in what cases is proactive disaster risk reduction cost effective. Second, how can we compare the cost effectiveness of various proposed strategies to assist policy makers in making decisions? Finally, what are the limitations and risks in the use of CBA (cost-benefit analyses) for decision-making? Although political expediency and organizational biases tend to dominate policy level decision-making, it is essential to see how compelling the economic justifications for various strategies are. Such an analysis also helps compare competing demands on most appropriate use of the land by various interest groups, and allows us to lend a lens of economic scale to such comparisons.
---
Citation: Khan, F., Mustafa, D., Kull, D., & The Risk to Resilience Study Team. (2008). Evaluating the costs and benefits of disaster risk reduction under changing climatic conditions: A Pakistan case study (Risk to Resilience Working Paper No. 7). M. Moench, E. Caspari, & A. Pokhrel (Eds.). Kathmandu, Nepal: Institute for Social and Environmental Transition-Boulder, Institute for Social and Environmental Transition-Nepal, & Provention Consortium.
Funded By: UK Department for International Development (DfID); National Oceanic and Atmospheric Association (NOAA); Canadian International Development Research Centre (IDRC).