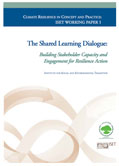 Climate Resilience In Concept and Practice: ISET Working Paper 1: The Shared Learning Dialogue: Building Stakeholder Capacity and Engagement for Resilience Action
This paper outlines the underpinnings and key characteristics of the Shared Learning Dialogue (SLD) process. ISET has successfully applied the SLD process in a number of Asian contexts to facilitate learning and to generate options for responding to current and future climate conditions. We offer a number of examples and key lessons from the Asian Cities Climate Change Resilience Network (ACCCRN), as well as more rurally-focused examples from Pakistan and Nepal, to illustrate the utility and challenges of using a shared learning approach to building an understanding of climate change risks, impacts, and resilience.
---
Citation: Institute for Social and Environmental Transition (ISET). (2010). The shared learning dialogue: Building stakeholder capacity and engagement for resilience action (Climate Resilience in Concept and Practice Series Working Paper No. 1). Boulder, CO: Author.
Funded By: The Rockefeller Foundation