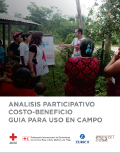 Participatory Cost-Benefit Analysis Guide for Use in the Field (Spanish Only)
Authors: Maria Fernanda Enriquez, Kate Hawley, Itzel Bejarano, Roxana Abarca, Francisco Ianni
The participatory cost-benefit analysis (PCBA) is a process that helps to compare the benefits and costs of resilience activities to be able to decide which one is feasible to be implemented. The PCBA allows you to evaluate the best resilience activity to be implemented when you have several options and it is difficult to identify a solution.
The advantage of the PCBA is that the process captures not only financial, but also social and environmental costs and benefits.  The PCBA can be implemented easily in a short period of time. It does not require a lot of information and includes the opinions and knowledge of the stakeholders involved in the decision-making process.
Previous to the PCBA it is necessary to carry out a communitarian analysis of vulnerabilities that allows you to identify the activities of resilience. We present a guide for facilitators that identifies each step of the PCBA.
---
Citation: Enriquez, M.F., Hawley, K., Bejarano, I., Abarca, R., Ianni, F. Analisis Participativo Costo-Beneficio Gui Para Uso En Campo (2014). Boulder, Colorado: Institute for Social and Environmental Transition-International. 
Funded by: The Mexican Red Cross