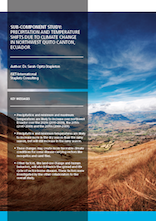 Sub-Component Study: Precipitation and Temperature Shifts Due to Climate Change in Northwest Quito Canton, Ecuador
Overview
This report was written as part of a project to provide policy- relevant data on Chagas disease, leishmaniasis, malaria, chikungunia and dengue fever and relevant socioeconomic, climatic and land-use change factors influencing disease rates and transmission in four rural parishes in Quito, Ecuador.
Key messages of the report:
Precipitation and minimum and maximum temperatures are likely to increase over northwest Ecuador over the 2020s (2010-2039), the 2050s (2040-2069) and the 2070s (2060-2089).
Precipitation and minimum temperatures are likely to increase more in the dry season than the rainy season, but will still increase in the rainy season.
These changes may create more favorable climate conditions for some disease-carrying vectors like mosquitos and sand flies.
Other factors, like land-use change and human behaviors, will also influence the spread and life cycle of vector-borne diseases. These factors were investigated by the other collaborators to the overall study.
---
Citation: Opitz-Stapleton, S. (2016). Precipitation and Temperature Shifts Due to Climate Change in Northwest Quito Canton, Ecuador. In: Climate Vulnerability of the Health Sector in Quito: Making Technical Data Accessible to Policy Makers. Institute for Social and Environmental Transition-International and Staplets Consulting: Colorado.
Funded by: Climate & Development Knowledge Network (CDKN)