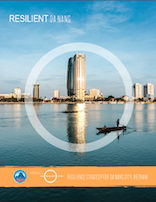 Resilience Strategy for Da Nang City
Despite being recognized as one of the fastest growing cities in Vietnam and one of the most attractive tourism destinations in South-east Asia, Da Nang is vulnerable to shocks such as typhoons, floods, heat waves, droughts and saline intrusion and to long-term stresses such as typhoon and flood damaged housing, water shortages, unemployment, poor health care, and business continuity challenges.
Extreme weather events over the past few years have put pressure on the city. Typhoons, floods and droughts occur regularly, causing significant losses and presenting challenges to the government and citizens: housing, employment, and infrastructure revitalization after disasters; water supply for development demands; food hygiene; and livelihood improvement. These challenges are predicted to increase with development, climate change, and population growth. Failing to address them could lead to the decline of efficiency and productivity of some sectors and socio-economic fields in the ci. For this reason, Da Nang has welcomed Rockefeller 100 Resilient Cities support to pro-actively build city resilience.
In November 2015, Da Nang launched a Preliminary Resilience Assessment (PRA) which identified four areas in which the city needs to conduct in-depth studies and develop specific action plans, projects and initiatives to prepare adequate resources for city development.  The end result of these planning efforts is Da Nang's Resilience Strategy.
The Resilience Strategy focuses on dealing with the major challenges of four focus areas of Da Nang's urban resilience planning.With this approach, Da Nang Resilience Strategy does not include or replace other existing strategies and plans of the city such as the Socio-economic Development Strategy, the Urban Development Planning, the Green Growth-led City Development Strategy and the Environmental City Plan. Under the view of urban resilience, the Resilience Strategy points out priority actions and initiatives that are needed to deal with future challenges.
---
Citation: Da Nang City. (2016). Resilience Strategy for Da Nang City. Retrieve from 100RC website: http://www.100resilientcities.org/strategies/city/da-nang#/-_/
Funded by: The 100 Resilient Cities