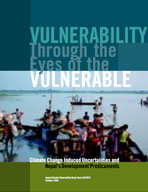 Vulnerability Through the Eyes of the Vulnerable: Climate Change Induced Uncertainties and Nepal's Development Predicaments
This report is a first attempt to synthesize existing scientific and socio-economic information on the likely impacts of climate change in the Nepal Himalaya and to assess the complex patterns of vulnerability to which such changes will expose Himalayan residents. To investigate this, eight signature events were selected for analysis (mostly water-related disasters, since climate change is anticipated to have a particular impact on the hydrologic systems of the region). This report attempts to capture the risk an increasingly capricious climate poses for Nepal and Nepalis. It links its unique ground-level "toad's-eye" perspective with the results emerging from high-level scientific analyses, the "eagle's eye" perspective, and suggests the need for intensifying scientific research to bridge the gap between the two.
---
Citation:  Nepal Climate Vulnerability Study Team (NCVST). (2009). Vulnerability through the eyes of vulnerable: Climate change induced uncertainties and Nepal's development predicaments. Boulder, CO and Kathmandu, Nepal: Institute for Social and Environmental Transition (ISET), & Institute for Social and Environmental Transition-Nepal (ISET-N). 
Funded By: National Oceanic and Atmopsheric Administration (NOAA); International Development Research Centre (IDRC)