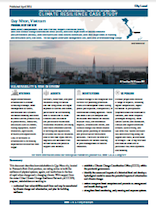 Climate Resilience Case Study: Quy Nhon city, Vietnam
Authors: Tho Nguyen; Tuyen Nghiem
The Case Study of Quy Nhon city provides brief summary and lesson learned of projects implementing in Quy Nhon city, Binh Dinh province, Vietnam under ACCCRN program, funded by the Rockefeller Foundation. This collection of case studies includes 4 projects: Climate Change Coordination Office (CCCO); Hydrology and Urban Development Modelling; Ecosystem Service for Climate Resilience; and Reducing Flood risk for residents in the lower Ha Thanh and Kones rivers. There is also a "program overview" section that contains background information about Quy Nhon city.
---
Citation: Tho, N., Tuyen, N. (2014). Climate Resilience Case Study: Quy Nhon City, Vietnam. Binh Dinh province, Vietnam: Institute for Social and Environmental Transition-Vietnam.
 
Funded by: The Rockefeller Foundation.