Dr. Colleen McGinn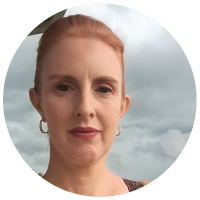 Senior Resilience Specialist
PhD in Social Policy and Administration
colleen@i-s-e-t.org
---
Staff Profile
Colleen McGinn, PhD, is an applied research consultant who specializes in coping and resilience, and applying disaster management perspectives to new global challenges like climate change and forced evictions.  Dr. McGinn provides research and technical assistance to development agencies across Asia and beyond.  As a social scientist, she works widely on gender, social inclusion, and applied research in many contexts.  One of her core niches is Monitoring, Evaluation, & Learning (MEL/M&E) of climate change adaptation (CCA), with a distinguished track record in evaluating adaptation programs and designing MEL/M&E frameworks for adaptation and resilience.  Aside from ISET, her clients in recent years have included the World Bank, Baastel, World Resources Institute (WRI), Plan International, Danish Institute for International Studies, the Columbia Group for Children in Adversity, SEA Change, and World Vision.  Dr. McGinn spent many years managing NGO programs across Asia, Africa, and the Balkans, and has lived in Southeast Asia for more than a decade.  She holds a PhD in Social Policy and Administration from the Columbia University School of Social Work. 
---
Selected Publications
Ly, P., Thwing, J., McGinn, C., Quintero, C.E., Nop-Samphor, N., Habib, N., Richards, J.S., Canavati, S., Vinjamuri, S.B., Nguon, C.  (in press).    The use of respondent-driven sampling to assess malaria knowledge, treatment-seeking behaviours and preventive practices among mobile and migrant populations in a setting of artemisinin resistance in Western Cambodia.  Malaria Journal.
Christoplos, I., and McGinn, C.  (2016).  Climate change adaptation from a human rights perspective: Civil society experiences in Cambodia.  Forum for Development Studies, http://www.tandfonline.com/doi/abs/10.1080/08039410.2016.1199443
Bours, D., McGinn, C., and Pringle, P.  (2015).  Editors' notes.  New Directions for Evaluation, Vol. 2015, No. 147.  http://onlinelibrary.wiley.com/doi/10.1002/ev.20127/full
Bours, D., McGinn, C., and Pringle, P., eds.  (2015).  Monitoring and evaluation of climate change adaptation: A review of the landscape.  New Directions for Evaluation, Vol. 2015, No. 147.  http://onlinelibrary.wiley.com/doi/10.1002/ev.2015.2015.issue-147/issuetoc
Leagnavar, P., Bours, D., and McGinn, C.  (2015).  Good practice study on principles for indicator development, selection, and use in climate change adaptation monitoring and evaluation.  Washington, DC: Independent Evaluation Office of the Global Environment Facility.  https://www.climate-eval.org/study/indicator-development-selection-and-use-principles-climate-change-adaptation-me
McGinn, C.   (2015).  "These days we have to be poor people:" Women's narratives of the economic aftermath of forced evictions in Phnom Penh, Cambodia.  Paper presented at Land Grabbing, Conflict and Agro-Environmental Transformations: Perspectives from East and Southeast Asia.  Chiang Mai, Thailand. http://www.iss.nl/fileadmin/ASSETS/iss/Research_and_projects/Research_networks/LDPI/CMCP_63-McGinn.pdf
Bours, D., McGinn, C., and Pringle, P.  (2014).  Evaluation review 1: Agriculture and food security in a changing climate –  Lessons learned from Asian programme evaluations.  Phnom Penh, SEA Change Community of Practice and Oxford, United Kingdom Climate Impacts Programme.  http://www.ukcip.org.uk/wp-content/PDFs/UKCIP-SeaChange-MandE-ER1-agriculture.pdf
Bours, D., McGinn, C., and Pringle, P.  (2014).   Evaluation review 2: International and donor agency portfolio evaluations: Trends in monitoring and evaluation of climate change adaptation programmes.  Phnom Penh, SEA Change Community of Practice and Oxford, United Kingdom Climate Impacts Programme. http://www.ukcip.org.uk/wp-content/PDFs/UKCIP-SeaChange-MandE-ER2-donor-agencies.pdf
Bours, D., McGinn, C., and Pringle, P.  (2014).  Evaluation review 3:  Evaluating programmes through a climate adaptation lens – Reflections from coastal areas in Asia and the Pacific.   Phnom Penh, SEA Change Community of Practice and Oxford, United Kingdom Climate Impacts Programme.  http://www.ukcip.org.uk/wp-content/PDFs/UKCIP-SeaChange-MandE-ER3-coastal.pdf
Bours, D., McGinn, C., and Pringle, P.  (2014).  Guidance note 1: Twelve reasons why climate change M&E is challenging.  Phnom Penh, SEA Change Community of Practice and Oxford, United Kingdom Climate Impacts Programme.  http://www.ukcip.org.uk/wp-content/PDFs/MandE-Guidance-Note1.pdf
Bours, D., McGinn, C., and Pringle, P.  (2014).  Guidance note 2: Selecting indicators for monitoring and evaluation of climate change adaptation programmes.  Phnom Penh, SEA Change Community of Practice and Oxford, United Kingdom Climate Impacts Programme.  http://www.ukcip.org.uk/wp-content/PDFs/MandE-Guidance-Note2.pdf
Bours, D., McGinn, C., and Pringle, P.  (2014).  Guidance note 3: The Theory of Change approach to monitoring and evaluating climate change adaptation programmes.  Phnom Penh, SEA Change Community of Practice and Oxford, United Kingdom Climate Impacts Programme.  http://www.ukcip.org.uk/wp-content/PDFs/MandE-Guidance-Note3.pdf
Bours, D., McGinn, C., and Pringle, P.  (2014).  Monitoring and evaluation for climate change adaptation and resilience: A synthesis report of tools, frameworks, and approaches [Second Edition].  Phnom Penh, SEA Change Community of Practice and Oxford, United Kingdom Climate Impacts Programme.  http://www.ukcip.org.uk/wp-content/PDFs/SEA-Change-UKCIP-MandE-review-2nd-edition.pdf
Christoplos, I., Funder, M., McGinn, C., and Wairimu, W.  (2014).  Human rights perspectives on climate change adaptation: Civil society experiences in Cambodia and Kenya.  Copenhagen, Danish Institute for International Studies.  http://www.diis.dk/files/media/documents/publications/diis_report_30_human_rights_perspectives_on_climate_change_adaptation_web.pdf
Christoplos, I., Funder, M., McGinn, C., and Wairimu, W.  (2014).  The role of human rights in climate change adaptation: Evidence from Cambodia and Kenya.  Copenhagen, Danish Institute for International Studies.  http://www.diis.dk/files/media/documents/publications/diis_pb_human_rights_climate_change_for_web.pdf
ICF International. (2014).  Mid-term Performance Evaluation of the USAID/Climate Change Adaptation Project Preparation Facility for Asia and the Pacific: Final Evaluation Report.  Washington DC, ICF International. https://dec.usaid.gov/dec/GetDoc.axd?ctID=ODVhZjk4NWQtM2YyMi00YjRmLTkxNjktZTcxMjM2NDBmY2Uy&pID=NTYw&attchmnt=VHJ1ZQ==&rID=MzU2MDI1
McGinn, C.  (2013).  'Every day is difficult for my body and my heart.' Forced evictions in Phnom Penh, Cambodia: Women's narratives of risk and resilience.  Doctoral dissertation, Columbia University.  http://academiccommons.columbia.edu/catalog/ac:166594
Payson Conflict Study Group, eds. (2001).  A glossary on violent conflict: Terms and concepts used in conflict prevention, mitigation, and resolution in the context of disaster relief and sustainable development.  New Orleans, Payson Center for International Development and Technology Transfer, Tulane University.  http://reliefweb.int/report/world/glossary-violent-conflict-terms-and-concepts-used-conflict-prevention-mitigation-and
McGinn, C.  (2000).  Transitional justice: International experiences and lessons for Sri Lanka.  Ethnic Studies Report, Vo. 18, No. 2.  http://www.ices.lk/publications/esr/articles_jul00/ESR_2_-Colleen.2.pdf
Payson Conflict Study Group.  (2000).  Early warning systems for violent conflict: A review of models, frameworks and initiatives.  Tulane University, Payson Center for International Development and Technology Transfer.  http://www.certi.org/publications/Manuals/CVA.pdf
Samarasinghe, S., Donaldson, B., & McGinn, C.  (2000).  Conflict vulnerability analysis: Issues, tools, and responses.  Tulane University, Payson Center for International Development and Technology Transfer.  http://www.certi.org/publications/Manuals/CVA.pdf